Welcome to Advanced poi spinning! Mind you, this is not the most advanced portion of instruction on this site. That would be Uber Advanced. But nevertheless, here you are. There are so few of you! And yet, there is so much more to learn.
As you grow more skilled at poi, it becomes more and more of a choose-your-own type of adventure. You'll find skills that you're not interested in learning, and some that spark a fire that lead you to original patterns. Maybe you'll be the next person to explore inversion variations, or explore every permutation of atomic weaves!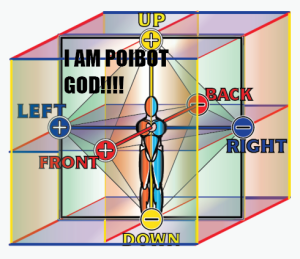 Whatever your future, you must know that it's important to have fun. Keep playing. This may be natural for you, but most of us have a hard time when we get better at something. At this point in the progression of a skill, you are increasingly faced with yourself and your ego. These little pieces of advice really can't be stated enough, and they're sure to keep you learning and preserve your happiness and the sanctity of your practice:
Don't compare your skill to others, and don't let it affect you if you do. Sure, you may be 'better' or 'worse' than someone at poi. But what does that really matter. Is that really how people are valued?
Remember, it's just an object. Don't get bogged down with conventions. There's not really a 'right' or 'wrong' way to spin. If you think of everything too technically, you might be confining yourself. And with that said…
Tech Matters. While conventions and frameworks can be limiting, they can also be hugely beneficial. Good study of tech and breaking down poi movement and technique are essential to growing in skill.
Wow. We could go on and on about principles like that, but let's leave it there for now. Let's get started.
In a less essential order than the intermediate and beginner series…here is advanced poi!
Linear Extensions…your intro to wall plane tech
Comments
comments
Feel good about inspin and antispin on the wall plane? How are those transitions? So many shapes…
In case you don't already know at this point, and you almost certainly do, Drex has about the most extensive collection of original poi content out there. Do yourself a favor and visit his site to fill your brain with poi, or just say thanks.
VTG (Vulcan Tech Gospel) contains the fundamentals of tech poi. Get to know the concepts well. Here are a couple videos to help you on the way:
Comments
comments
Comments
comments
There are countless videos of tutorials, tech blogs, etc out there exploring the vast world of tech spinning on the wall plane. Get the VTG App, talk to your friends, explore the transitions between each timing/direction with your hands only and then with poi. Dig deep, my friend. Explore!
'Hybrids' is a vast world that basically means creating multiple different shapes at a time with your poi. Here is a good intro:
Poi Hybrids
Comments
comments
Let's learn something really satisfying:
Body Tracers and Snakes:
Comments
comments
Whoa whoa wait a second. Tracers?! Awesome. That seems like a huge world of potential possibility!
Indeed. It is. If you want the greatest, most extensive coverage of body space exploration, learning to spin anywhere and everywhere comfortably, then study this next framework carefully:
Leo's Tracers and Component Reels
Comments
comments
Awesome. That should keep you busy for a year or two.
We totally should have learned top stalls by now.
Top Stalls by Drex
Comments
comments
Top Stalls can be used for a wide range of patterns.
Let's take a break and watch an inspirational video. Here is one of the most historic poi videos around. It's full of concepts you're already training, including some you have yet to try.
Red Pants
Comments
comments
Thanks for so much originality, Mel. Truly astounding.
Alright. The time has come. If you haven't tried it already (though hopefully you have) you've sure earned it. Let's get tossing.
Intro to Poi Tosses by Drex
Comments
comments
Not enough for you?
If you've already played a lot with poi tosses and that didn't whet your whistle. Here I am with a very extensive recap of tossing concepts.
Now let's touch on another vast world: Tangles. Conventionally, people start with hyperloop transitions. If you don't already know the standard hyperloop and airwrap, go learn them!
We're going to build our foundation with the butterflap.
The Butterflap
Comments
comments
Yes, yes, I know. She was calling it the butterfloop. But it's actually a butterflap. Here is an explanation.
Get the butterflap down! It will help you with all future tangle explorations.
Let's check out some more concepts of body space spinning. "Negative Space" is a term that simply refers to any hole you create with your poi. Adam Kemis is pretty much the master of negative space techniques. Here is a recap of his brilliant workshop from Pacific Fire Gathering 2014.
Comments
comments
Now that we've tried negative spaces, let's go somewhere difficult by weaving within them:
Inversions by Drex
Comments
comments
Let's take a moment to go somewhere special. Here is a good example of how poi spinning can be thought of according to many different conventions. Charlie Cushing has developed a really fascinating way of connecting unit circles in tech poi:
9-Square Theory
Comments
comments
Now, some multiple-plane spinning.
The Atomic Weave
Comments
comments
Comments
comments
Now, remember that crazy thing Mel did in Red Pants where it looked like he created antispin petals sequentially in each direction?
That is called…
The 8-Step CAP Pattern
Comments
comments
We've come so far! Really…great job! You're killing it! The time has finally come…let's get going on contact poi.
Starting Contact Poi
Comments
comments
Be sure to progress along through each video part of Asaf's lesson, and you should have no trouble with the contact roll.
We probably should have already gone here by now, but better late than never, right?
The Superman
Comments
comments
Along with the superman comes a world of variations, including…
The Fantastic Four
Comments
comments
Now here is our own Jonathan Alvarez for a nice piece of flare you can throw in almost anywhere. Enjoy your poi candy:
The Gunslinger
Comments
comments
To end things in the advanced section, we're going to break open the gates to where I know you want to go:
Starting 3-poi
Comments
comments
Thanks again Drex!
CONGRATULATIONS!
If you've mastered all of the techniques on this page, you are officially a certifiably Advanced Poi Spinner.
Thirst for more?